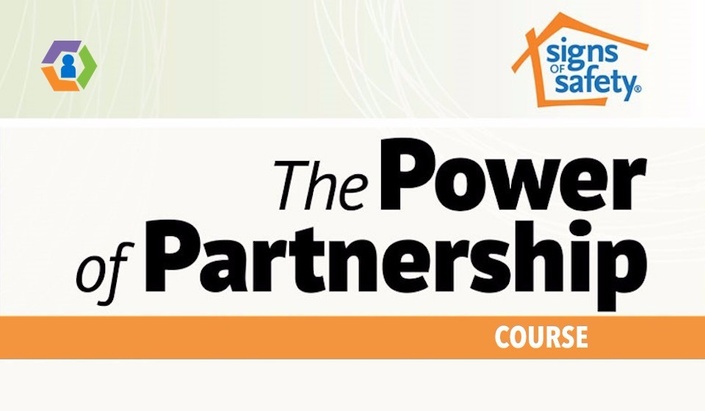 The Power of Partnership Small Group Course
An Intensive Co-Facilitated Learning Experience
One of our best resources to help your agency
promote a culture of learning
and build internal capacity.
"The Power of Partnership video and workbook is quite simply the best way to introduce the Signs of Safety approach to people new to the approach and what's more it always inspires and deepens the practice of those who know the model well."
Co­-creator of the Signs of Safety and Co-Author of Working with 'Denied' Child Abuse The Resolutions Approach
"The Power of Partnership Small Group Course is brilliant! Any group of practitioners and leaders who engage in this course will have a solid grasp of leading a family and professionals through risk assessment and safety planning from the beginning of a case to closure."
Susie Essex
Consultant Family Therapist and Co-Author of Working with 'Denied'Child Abuse The Resolutions Approach
Contact us TODAY at [email protected] to launch the Power of Partnership Small Group Course in your Agency!
By the end of this course...
Participants will be able to...
Skillfully use Authority & Inquiry to build Partnership from the first contact

Develop a clear and balanced Risk Assessment Map

Lead parents through the development and delivery of a Words & Pictures Explanation
Help families identify effective Safety Networks


Involve children in the development and demonstration of a

Safety Plan
Teams will be able to...

See the importance and value of collaborative Action-Learning
Use Rotational Mapping to learn together and grow capacity


Create a culture of learning through

Appreciative Inquiry
Your Course Guide
A Licensed Signs of Safety trainer or consultant will guide your group through the Power of Partnership Course. Licensed trainers and consultants who assist practitioners and agencies to learn and implement the Signs of Safety approach are available in Europe, United Kingdom, North America, Japan, New Zealand and Australia.

All trainers and consultants participate actively in the broader international community, sharing and growing their knowledge and skills through training, gatherings and individual and group supervision.
Included in this course...
"The learning opportunities provided by SafeGenerations are unique and special experiences. The online classroom helps people from different contexts communicate with one another about practice. We get to share perspectives from various geographical areas, roles, and points of view. This makes me a better practitioner because it gives me a more complete picture of how things are applied from rural to urban jurisdictions, between investigations and case management, and even from supervisors to workers.
Being able to enter comments and reflections into the online classroom and then have other people discuss the same concepts and ideas gives me courage to move my work forward."

- Garry Dorris, Missouri
"There were so many things I appreciated about the Power of Partnership Course!...The opportunity for group collaboration and discussion; Working through a family case study while applying my learning to everyday work with children and their families; The ability to refer back to the PoP curriculum and postings as needed. I also appreciated the feedback along the way from the SafeGenerations facilitators."
- Anonymous, Ontario, Canada
No portion of this course can be duplicated, published or distributed without direct permission from SafeGenerations. Contact [email protected] with questions or requests.
Frequently Asked Questions
Are there any prerequisites for this course?
It is recommended that group participants have a minimum of two days basic training in Signs of Safety. However, anyone can take The Power of Partnership Course! No matter your starting point, all you need is a willingness to invest your time and energy to learn and grow in your practice!
Who else will be taking the course with me?
The Power of Partnership Course is designed for groups of 12 people from your agency who will meet in person for each session. Two of those people will act as On-site Agency Facilitators. They will guide you through each session with support from SafeGenerations.
What's the time commitment?
Each session is designed to take approximately 2-3 hours to complete. Some groups prefer to slow down so they can get to more depth. Other groups prefer to cut back on the live session time by doing some pre-work and/or post-work for each session. Your Agency Facilitators will help your group decide what makes most sense for you.
Is there homework?
There are homework assignments after each session that will help you apply your learning to your own practice. Whether you are a leader in your organization or a frontline worker, the homework is designed to be done as part of your regular job but you should plan extra time since learning something new always takes more time than doing what you already know. The more diligent you are with your homework, the more value you will get from the course and the more this practice will become a natural part of your work!
When does the course start and finish?
The course starts now and ends in approximately 12 months! Your organization or team will decide how fast or slow to take the course and will arrange a schedule with SafeGenerations. If you're unsure about your agency's schedule, please e-mail
[email protected]
How can I get my agency enrolled?
Contact us at
[email protected]
A member of our team will get back to you within 1-2 business days to discuss your options, answer your questions and help you tailor your course to meet the unique needs of your agency.
Your Course Developer
The SafeGenerations Team has worked together to develop this course. The full-time team (Andrea Robideau, Bill Schulenberg, Sarah Sundman and Sherry Amelse) has more than 50+ combined years of experience in direct practice with families in child welfare and counseling. They know first-hand what it takes to learn and grow in asking questions and leading conversations. As of 2019, SafeGenerations had provided training and consulting services to more than 65 jurisdictions across the United States and Canada, primarily focused on the Signs of Safety approach and the Resolutions Approach. Because they stay closely connected to the international Signs of Safety community and because they continue to work alongside families and front-line practitioners, the trainers at SafeGenerations bring their tried-and-true methods for engaging families to collaboratively build lasting safety for their children.
Contact us TODAY at [email protected] to launch the Power of Partnership Small Group Course in your Agency!
Your classroom will close one month after your last scheduled session.