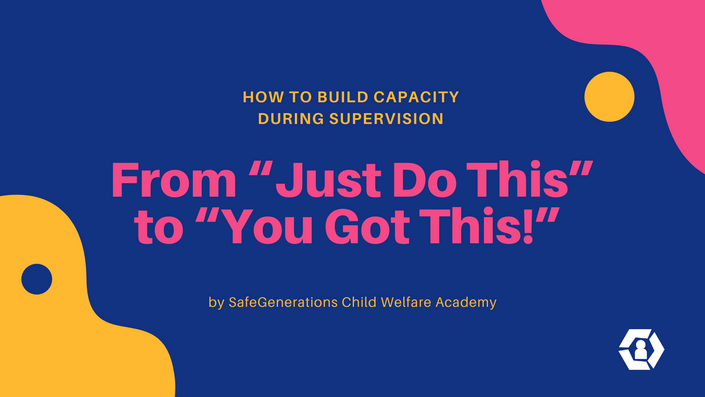 From "Just Do This" to "You Got This!"
How to Build Capacity During Supervision
Free Up Time and Empower Your Workers
(Without Compromising Quality Casework)
Being a supervisor isn't easy. Especially when your worker is unfocused, upset, or unsure of next steps. And while it can be tempting to just tell them what to do, this makes them dependent on you for all their decision making, virtually guaranteeing they'll be back tomorrow looking to you for yet more answers.

You're their supervisor.
Not their co-worker.
Not their confessor or therapist.
Trying to be all of that rolled up into one person
is totally unsustainable.

We know you want your workers to be successful, and that you need a way to help them that doesn't leave you burned out. That's why we've combined our 10,000+ hours of experience consulting with front-line staff, supervisors, and directors in 7 countries to bring you a mini-course that will help you keep your supervisory sessions productive, clear, and mutually beneficial.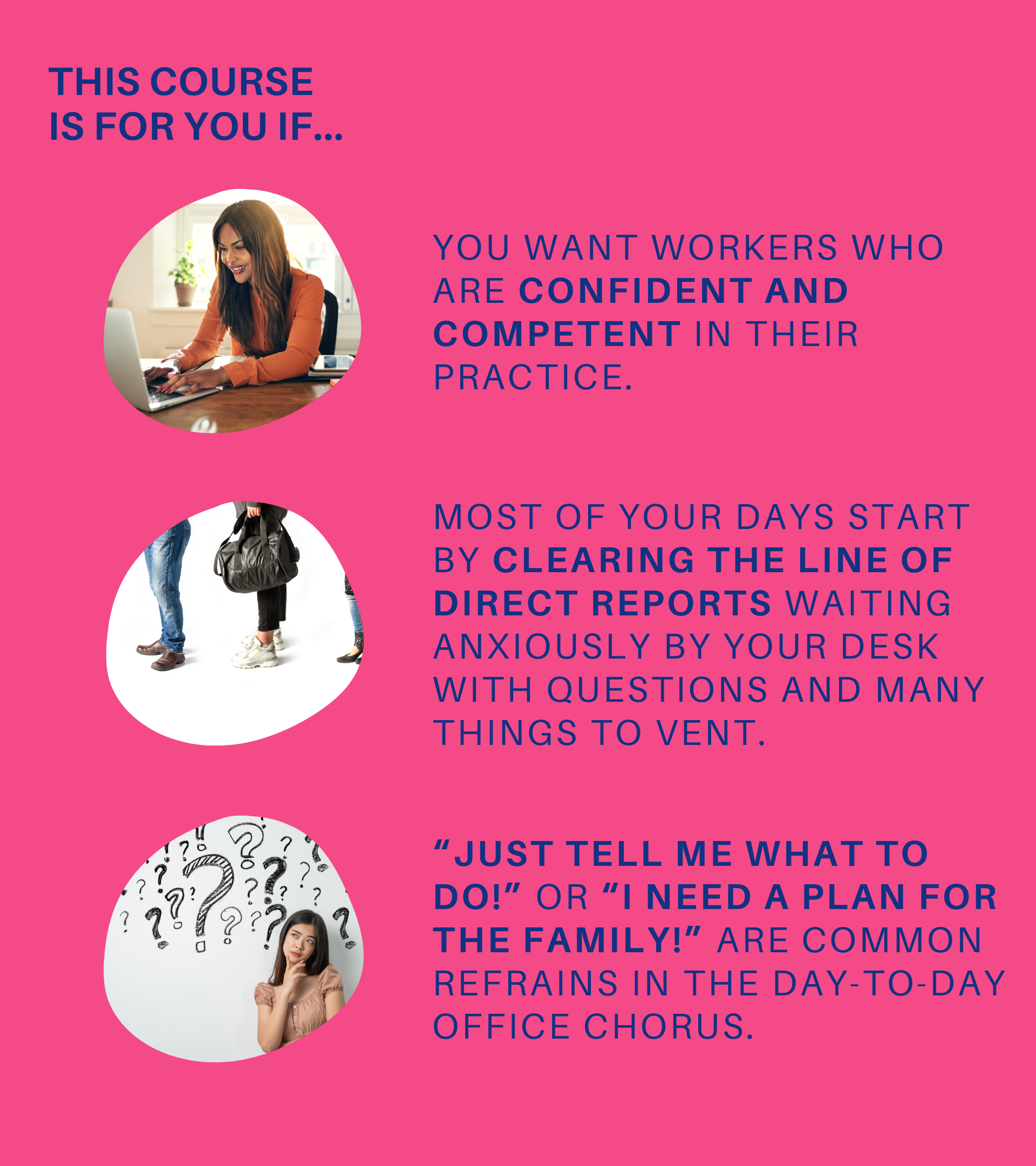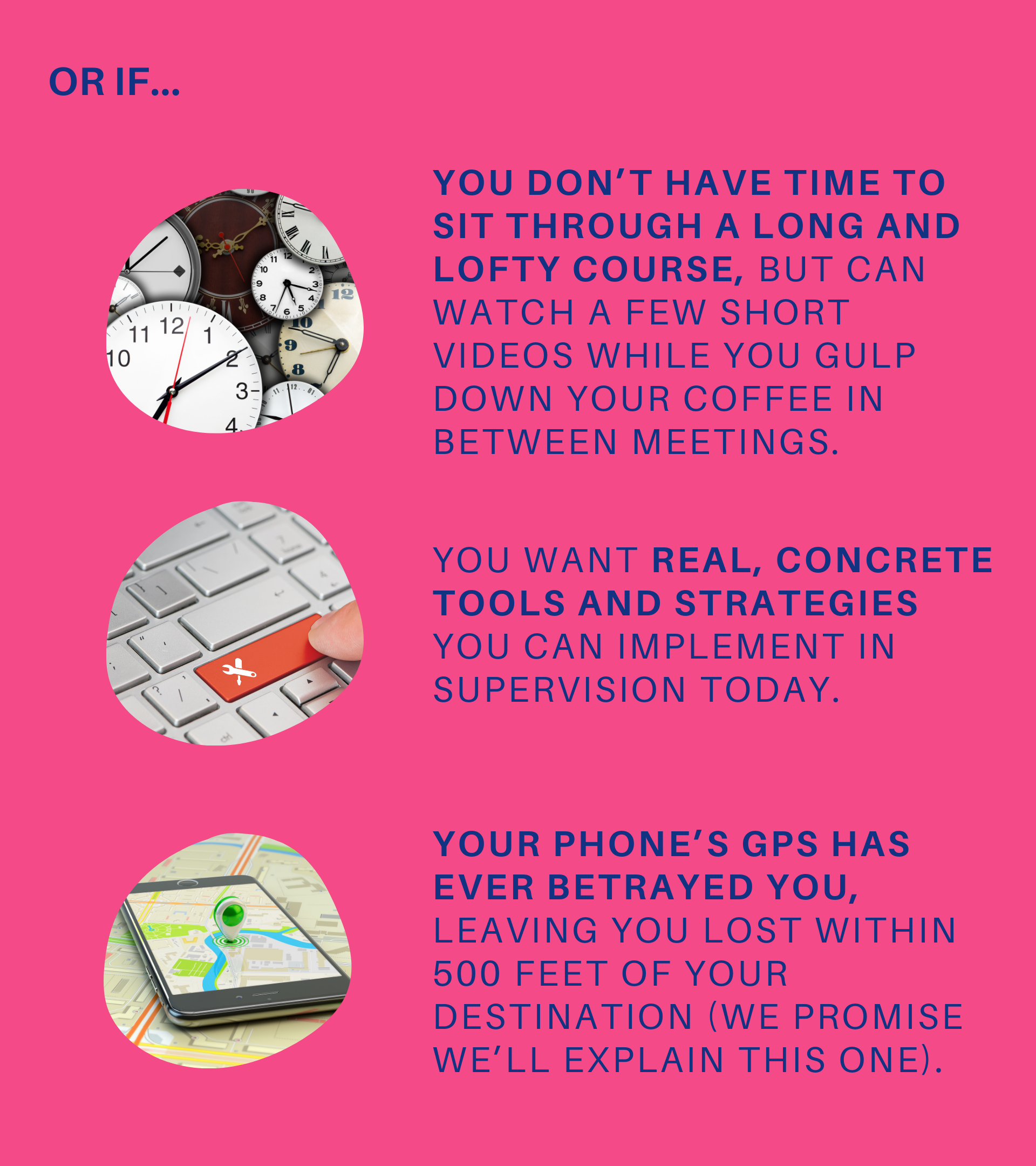 By the end of this course participants will be able to...
Deftly avoid common supervision traps that waste precious time and keep workers dependent on you for all the answers.
Run clear, realistic, purpose-driven, and productive supervisory sessions.
Encourage critical thinking and self-efficacy in workers by asking skillful questions and being a thought partner, not a thought provider.
Course Curriculum
Classroom Orientation
Available in days
days after you enroll
PART 1: Rethinking the Role of a Supervisor
Available in days
days after you enroll
PART 2: Clarity
Available in days
days after you enroll
"SafeGenerations does a great job
at engaging us
and equipping me as a leader
to do the same as I lead."
- Child Welfare Supervisor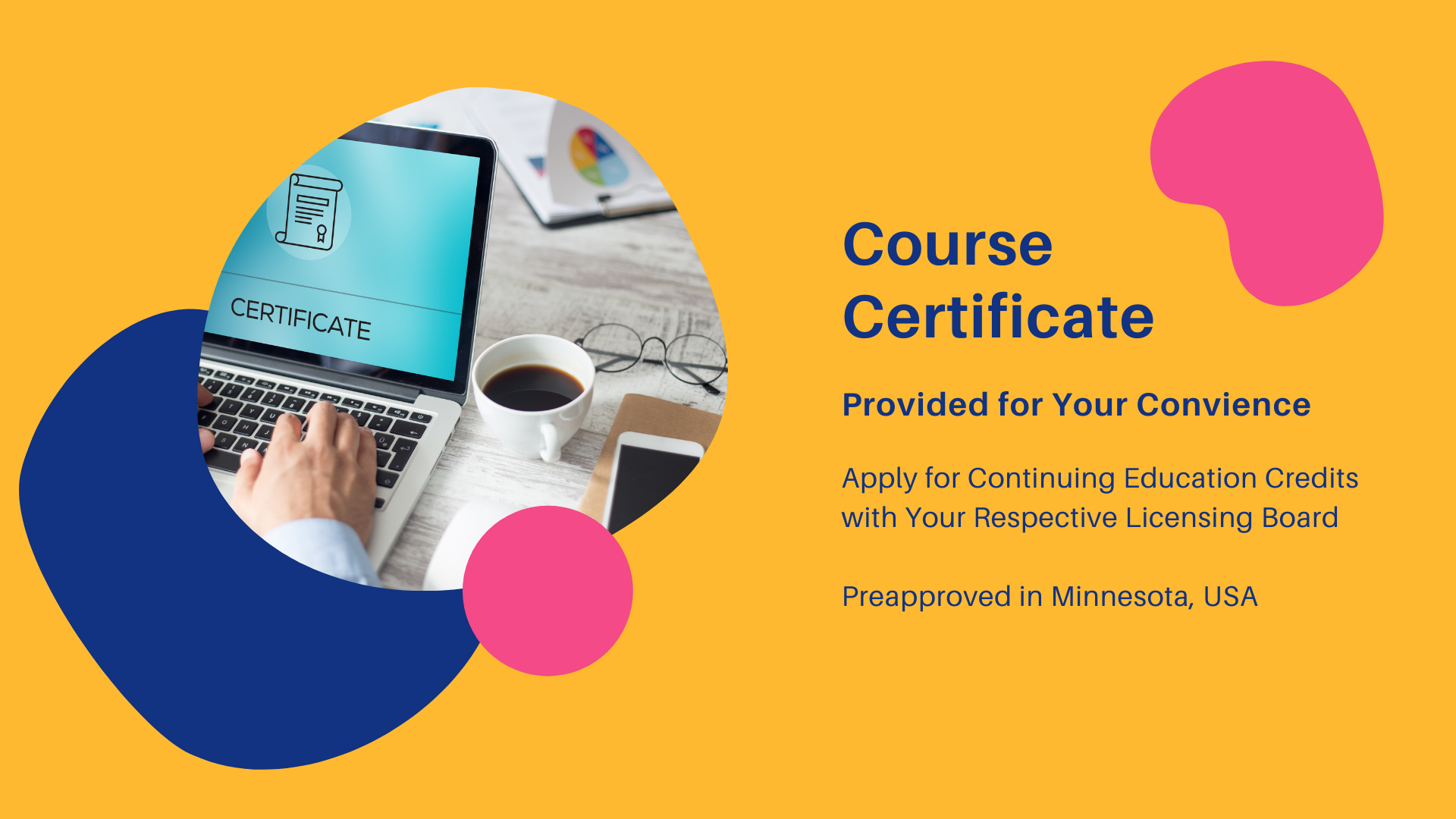 Your Course Developer
The SafeGenerations Team has worked with policymakers, researchers, and field experts like you to develop this course. The full-time team (Andrea Robideau, Bill Schulenberg, Sarah Sundman and Sherry Amelse) has more than 50+ combined years of experience in direct practice counseling youth and families as well as safety and well-being planning with families who are involved in child welfare. They know first-hand what it takes to learn and grow in the practice of asking questions and leading conversations. SafeGenerations has provided training and consulting services to more than 70 jurisdictions across the United States and Canada to date. SafeGenerations offers training, consulting, and implementation services as well as practical technology tools to serve the whole organization - from frontline practitioners to the executive leaders.
Frequently Asked Questions
When does the course start and finish?
This mini-course is broken down into 3 parts and they will be released weekly. Each part is totally self-paced and online accessible. The first will be released at the time of enrollment. We refer to each part of the mini-course as a session.
How long is this course?
There are 3 sessions in this mini-course. Each takes 10 minutes or less to complete.
What if I am unhappy with the course?
We would never want you to be unhappy! If you are unsatisfied with the course, contact us in the first 30 days and we will give you a full refund. Or, if you were part of the free promotion, we'll take your feedback seriously and improve the course going forward.
Is there homework?
The homework is the application of what you learn to your daily work.
How long do I have access to this course?
You will have access to all course content for approximately 1 month after completing the course.
No portion of this course can be duplicated, published or distributed without direct permission from SafeGenerations. Contact [email protected] with questions or requests.